Someone's Getting Wet
Every once in awhile we get to witness a spectacular sky while looking south across the lawn from our seats on the patio. This one that built one late June evening was a good one!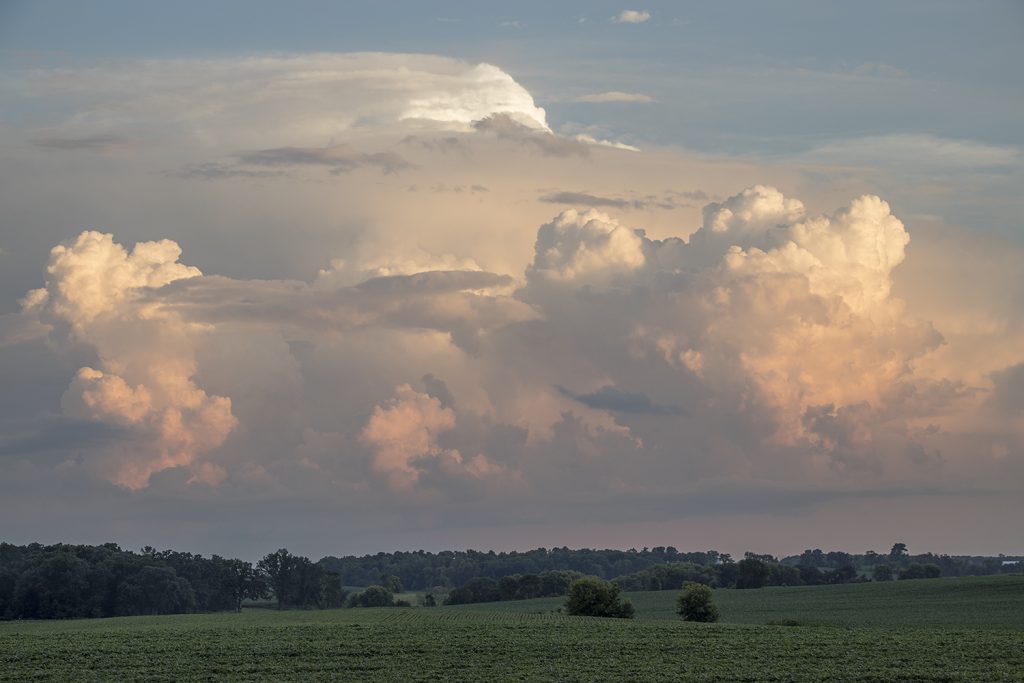 May 25: A Gathering of Neighbors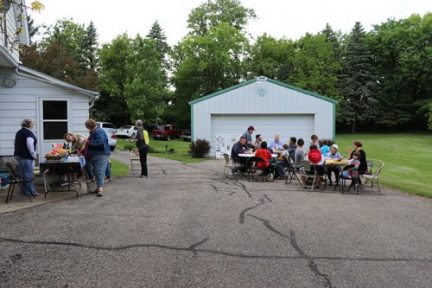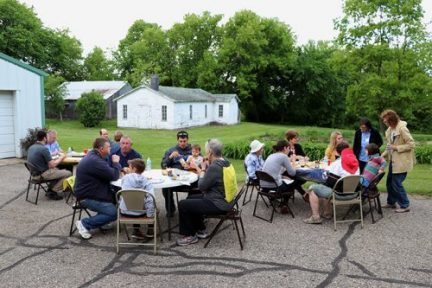 May 25th was a day for gathering at Hofmann Apiaries to thank our neighbors, board members and volunteers in an on-going effort to ensure the legacy of this special place. Hofmann Apiaries has been on the National Register of Historic places for 1 1/2 years now and we continue to pursue restoration funds for the wax shed and honey house. Among those in attendance were Ryan Brixius, USDA Area Specialist for Rural Development, Brad Carlson, U of M Extension Services, Waseca campus, and Pat Jirik, U of M Extension Educator who also represented the Southeast Minnesota Beekeeper's Association (SEMBA). Among others, these people shared their insight, advice and encouragement to all in attendance, to promote habitat and forage for honey bees. A special thanks to Rick Johnson of Janesville Subway for providing sandwiches, and to Aaron King and Jim and Tonya Saleda, owners of J-Town Liquors, who provided wine and beer. The generosity of those people was greatly appreciated. Thank you everyone for coming and sharing your connections to Hofmann Apiaries be they old or new.
Spring Day in the Prairie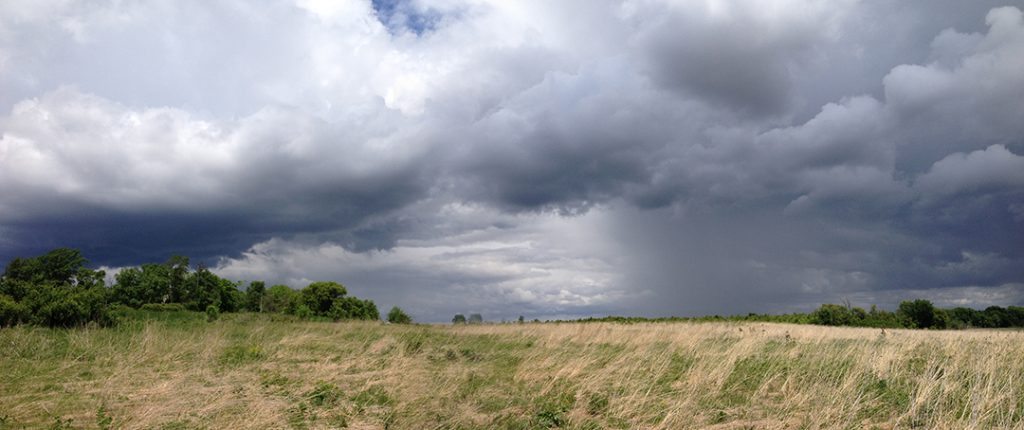 Winter has passed and we're now fast approaching summer which brings with it much work related to weeds. Bah! There are a great variety of weeds populating our ten acres of prairie, and many are considered noxious which means they must be removed if at all possible. Among those weeds is the hated Wild Parsnip. The best way to get rid of them is to clip them just below the surface with a special spade, then pull them. So far, with some help from nearby good-guy neighbors Mychal and Andrew Fiesel, including last year's efforts we've pulled roughly 4,500 of the pesky devils, and what great fun it's all been. The above shot was taken of weather rolling in as I was cheerfully pulling WP plants and secretly hoping the weather would force me to abandon the fun I was having. Unfortunately, I didn't get more than a few drops so the fun continued, but it was a mighty impressive sky for awhile.
2016
July/August – The Hofmann Dears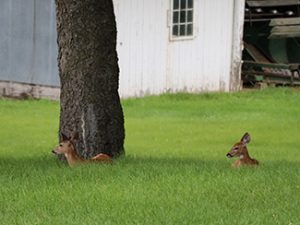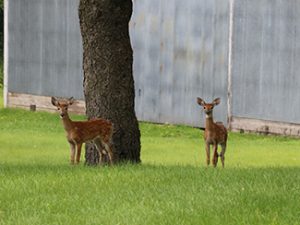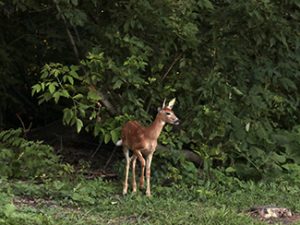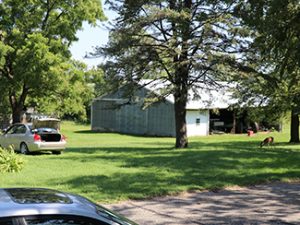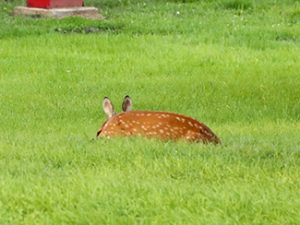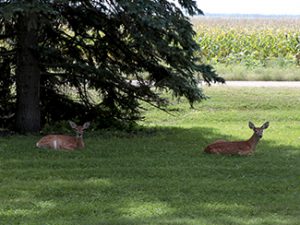 We have deer at the farm: two fawns and their mother. We see them at the neighbors just down the road once in awhile, too, but they're at our place so much we think of them as "ours" and figure they just visit there once in awhile for a change of scenery. I first saw the two fawns in our yard one morning lying under a large pine fairly close to the house. I quietly stepped out on the patio, took a few pictures, and then hailed them. They casually rose to their feet, looked at me with nonchalant interest, then lay back down and continued their rest. I got closer to them at the back door: same procedure, same result. It wasn't until my second trip to the garage (within 100' or so) to get the tractor that they finally left. I continued to see them together and singly throughout the day in different parts of the yard. We saw them again the next day (mom, too) a couple of times before we left. We always see them at least once during a stay, and they seem to barely pay attention to us if we don't get real close. We've stopped just short of naming them, but then we can't tell one from the other, anyway. This past weekend we didn't see them until Sunday morning. Just after breakfast I looked out a window and saw them lying under a large pine in the front yard not more than 20 feet from the patio. I stepped out, sat down and took a few pictures while talking to them. A car rolls by. It's a friend who sees me, stops his car, backs up, and turns in the driveway. I point to the deer, he shuts off his car, and we both watch for a while. Then I walk to his car and we proceed to have a normal conversation, talking and laughing, all the while within 30 feet of the fawns. Eventually they rose and wandered off paying us no attention. As my friend said, "It's like a petting zoo." I ride a motorcycle and generally regard deer with a less than favorable attitude. But these creatures are so beautiful, elegant and innocent that I'd be more inclined to buy them each an ice cream. Dears, indeed.
June 30
I was looking for a particular set of slides a couple of days ago, and when I found them I discovered among them a couple of pictures of my father that I just love. I don't remember ever seeing them before. This seems like a good place for them.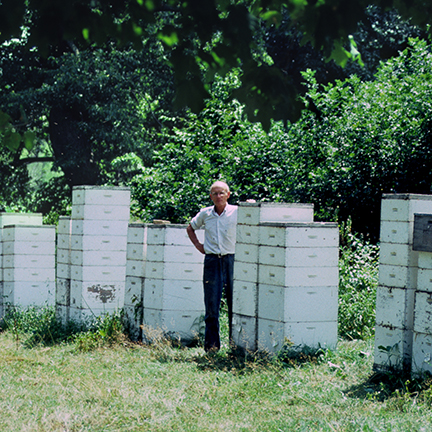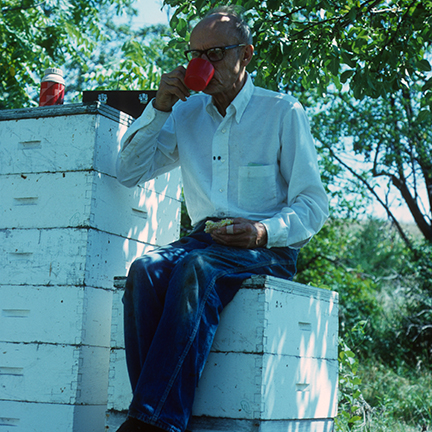 June 5, with Friends of Minnesota Barns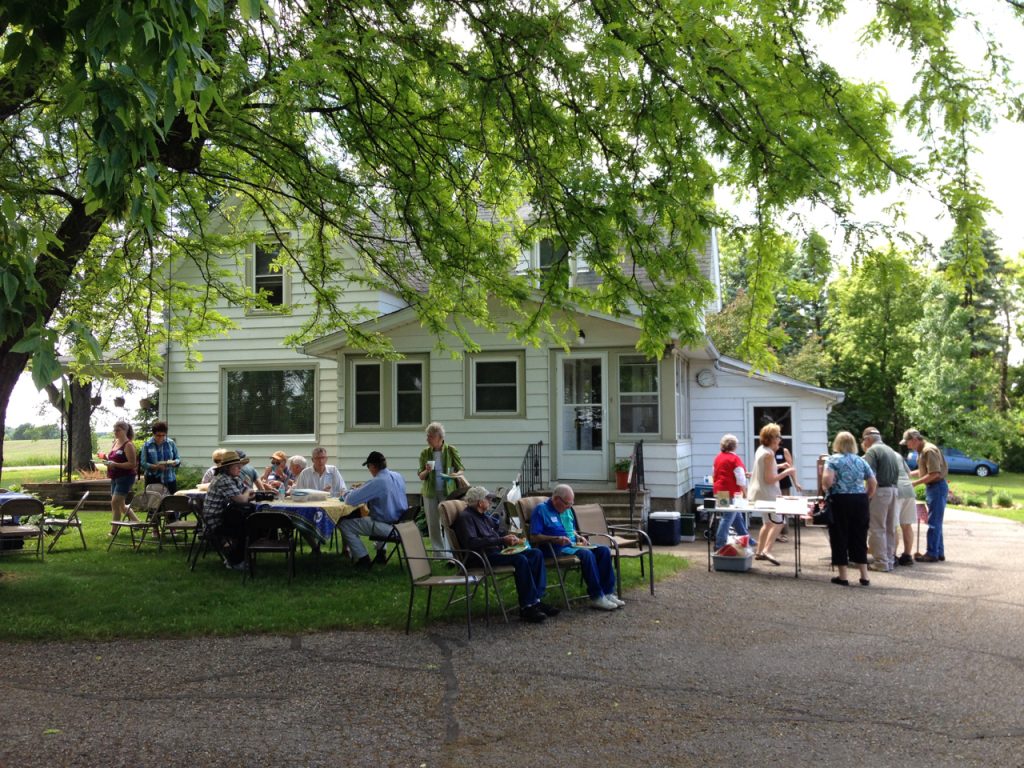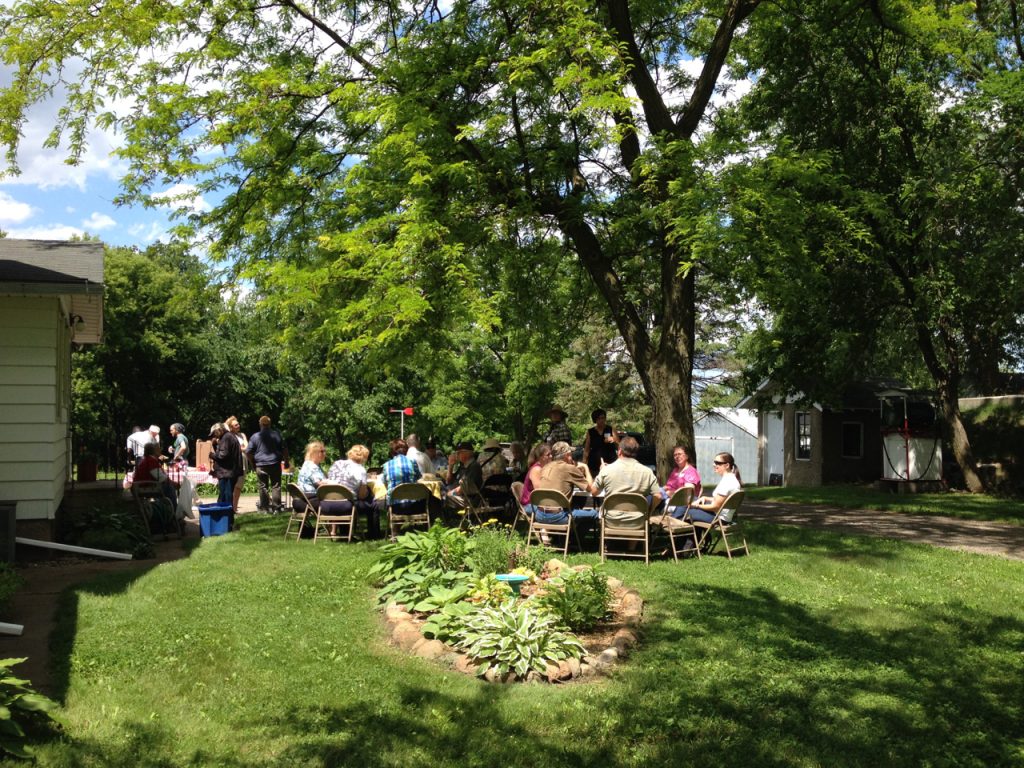 This past Sunday we hosted a "coffee chat" for Friends of Minnesota Barns. We were blessed with perfect weather, and we had a lovely afternoon. From what people said it seems everyone enjoyed our place, the day, the company and the food. Thanks to all who made the effort to come visit us. It was great meeting so many of you, and we hope to have you visit us again once we've accomplished our goal of seeing our buildings restored.
May 29 – Final Swing update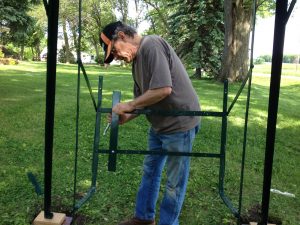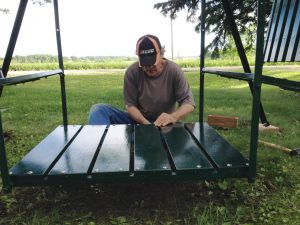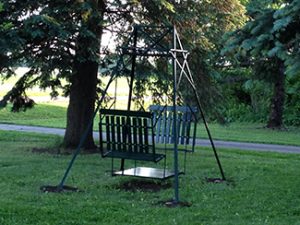 The first board                                               Tightening the last boards                               Ah, swing.
The swing is finished. It took a lot longer to set and level the frame than I expected, but attaching the wood went smoothly, and it was finally "finished" (still a tiny bit of paint touchup left) just in time for us to pack up and leave for home. We'll have plenty of time this summer to enjoy it, and it feels great to have it restored. Given its present condition it should last for many, many more years. Our daughter's kids (assuming she has some one day) will probably climb all over it and swing away as did my mother, her sisters, and I did when I was a kid visiting my grandparent's farm near Fulda. I love the old thing and use it from time to time, as mood, weather and time permits, but "climb all over it" doesn't quite describe my usage these days. Wouldn't want to spill anything.
May 23 – Swing Update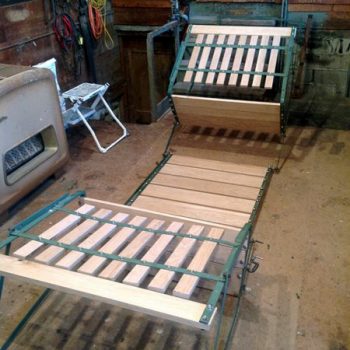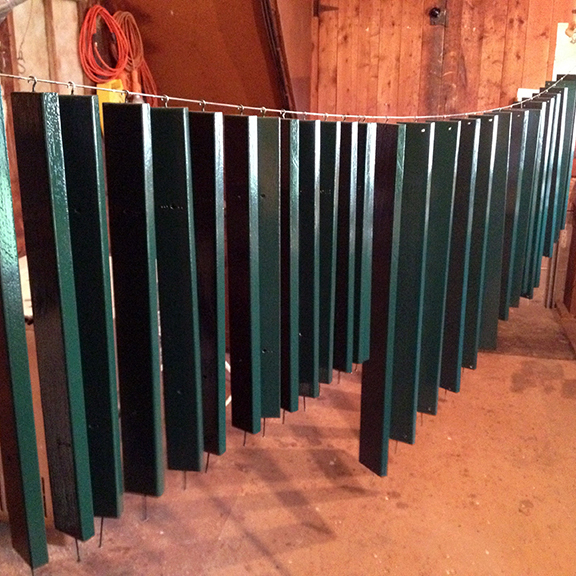 For the many people who occasionally peruse this page in breathless anticipation of obtaining the latest news of the swing's progress (I'm pretty sure my wife sees my posts at some time or other; not sure about our daughter), here, finally, is an update. The photos are fairly explanatory: The first shows the finished pieces of wood mounted to the seating frame. Upon close examination one might have the impression that, charming as it all is, the swing was probably homemade in a backyard, and one is tempted to imagine liquid spirits may have been involved. The welds are generally unattractive, there are holes seemingly abandoned in favor of ones placed to better advantage, and parts and sections that should match, don't quite. "Contraption" is a word that comes to mind. For those reasons each piece of wood had to be hand-fit, and having the fitting stage finished was a milestone of sorts. The other photo shows the pieces hanging in the shop after receiving primer and four coats of paint. I was fully prepared to stop at three coats, but with two boards left of the third coat the wire unexpectedly gave way and the whole lot tumbled merrily to the shop floor. Drat! This eventually required considerable handwork once the paint had dried. An assortment of shop-floor bits that were attracted by the tacky and wet paint of the most recently painted boards had to be removed, and they were reluctant to give up their recently acquired more permanent condition. However, once those bits had been vigorously convinced to return to dust, and the boards had all been rubbed down to an even sheen, they received that fourth coat of paint and all was well. This past weekend I gave the entire frame a couple of sprayed coats of paint and this process went on without a hitch. Next weekend, Memorial Day weekend, we expect to put it back in its place in the front yard and attach the boards thereby finishing the project. There will then be a final update that my wife may see, but since she'll be helping me attach the boards she might skip that part. I'll probably tell our daughter to take a look.
May 4 – Burn Day
I got to the farm about an hour before the crew arrived to burn our CREP prairie. It was a beautiful day, but there was a northwest breeze blowing with some conviction. Knowing nothing about how such things worked I erroneously assumed the crew would start the fire at the northwest corner of the site and simply allow the wind to do the work. It's a good thing I wasn't in charge. Had they started the fire there, in spite of the burn barrier previously mown around the site, there's a good chance the Janesville Fire Department would have had a very long and busy day. Fortunately, professionals were involved. The technique was to start the fire against the wind at the opposite corner of the site and carefully burn a strip to act as a barrier before moving into the wind ahead of the fire, light another strip there, and then let the wind push the fire toward the burned out barrier. It took an hour and a half to compete the process; my technique would have taken maybe fifteen minutes for those ten acres. Lord know how long it would have taken to burn off the southeast section of Janesville Township. It was a pleasure to watch the crew (Craig and Nick Watje, Paul and Frank Zimprich) doing their jobs in a well orchestrated plan that resulted in, what Paul opined, was perhaps their best burn of the spring. It was a swell event.
April 29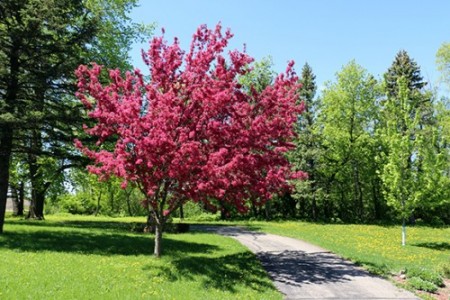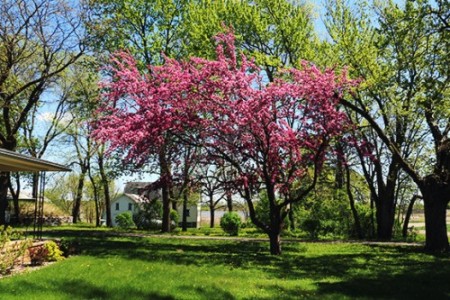 We arrived at the farm to find the crab apple trees, apple trees, and dandelions in full bloom. They were glorious. We also found the grass to be mighty healthy and longer than I like for mowing without leaving so much that some areas should be raked. Sorry, no time for that.
April 11
We went to the farm this past weekend arriving Friday evening after dark. In the morning we noticed a tree branch draped over the north end of the wax shed and assumed the branch had been blown off a nearby tree during a strong wind. Later that morning, with chainsaw in hand, I went to take care of the branch and discovered that the branch was still quite firmly attached to a large tree that had fallen and just missed the end of the building by scant feet. With a bit more encouragement from a NW wind the tree would likely have taken out a good share of the north end of the shed resulting in a very hard decision as to whether or not to save the building. We're so very grateful to have been spared having to make that decision. Providence. Thank you, thank you!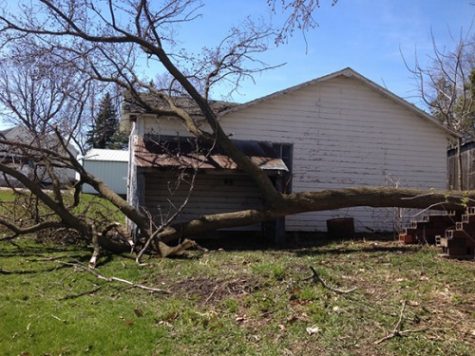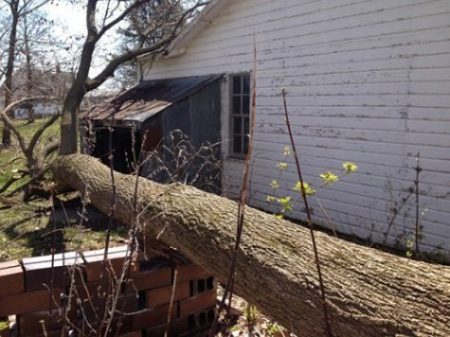 March 5
We were at the farm this past weekend to get more work done on the swing (big job that!), and were surprised and honored when our friend Joan Mooney, Co-Executive Director of the Waseca County Historical Society, and Marla Spivak, McKnight Professor and extension entomologist in the Department of Entomology at the University of Minnesota, stopped by for a visit. Marla spoke at the Southern Research and Outreach Center Saturday morning in Waseca, and was kind and gracious enough to accompany Joan and Donna Fostveit to the farm after her talk. It was Marla's first visit, so we were happy to give her a tour of the honey house and to show her around Hofmann Apiaries. We had not seen Marla for some time, so it was great to see her and catch up a bit. We're hopeful that once we have the facilities in place Marla will become a regular contributor to the programing we intend to offer. Nothing would please us more.

Jan, Joan, Larry and Marla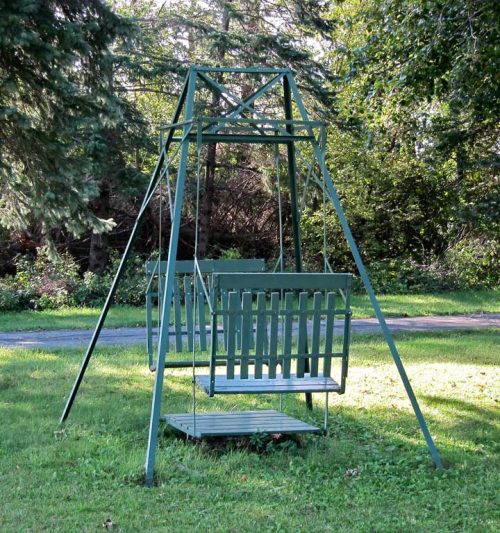 February 17, 2016 – The swing project begins.
This weekend we'll be heading to our farm after an absence of several weeks. Since this is my first post here I should mention that we refer to the place as "the farm" even though it's now officially "Hofmann Apiaries." Actually, I'm pretty sure it will always be "the farm" to us. We'll be there for a couple of days and are hopeful of getting a lot of work done on our lovely old glider lawn swing which now lays in pieces in the honey house. The swing has history: It's at least 100 years old, and 25 years ago we brought it to our place from my grandparent's farm in Fulda, Minnesota, where my mother and her sisters played on it as they grew up. My wife, Jan, and I rebuilt the swing years ago. But the elements have taken their toll and it now needs restoring again. When we were last there I picked up some beautiful white oak from a local sawmill, and the boards are now waiting in the honey house shop to be cut into the various sizes required. I'll take it to a friend, a great guy and fine woodworker in Janesville, who will give the edges a radius as I don't have that capability. Then lots of sanding, drilling, fitting and assembling with (this time) stainless steel carriage bolts. It's kind of fussy work, but the great pleasure of it will be spending time in the honey house shop. One of my fondest memories is of spending time during the winter in that shop with my father repairing frames and installing wax foundation. Looking out the shop windows at the empty, snow-blanketed "home yard," being warmed by the stove, and working with my dad as we listened to the radio is a memory sweet as honey itself. Now when I walk into the shop after the stove has it warmed up I can nearly smell the perfume of new foundation. It feels like a blessing.
LH